Red Wedding Centerpieces
If the theme of your wedding is red because it is a Christmas or Valentine's day wedding or just because you like the color, then you are going to need some red wedding centerpieces. A red themed wedding and reception can look very elegant as the splash of red here and there is quite dramatic.
When considering ideas for wedding reception table centerpieces, most people will think of flowers. Combine that with the red theme and the classic choice will be roses but there are other red flowers you could use such as the calla lily, carnation and tulip to name but a few. Place the flowers in a contrasting colored vase such as black, white or silver and the result will be stunning.

Photo by phil wood photo.
A similar look can be achieved but without the need for flowers by using ostrich feathers dyed red. They are large and make interesting palm tree like displays when grouped together as a spray in a vase.
Other popular choices for wedding centerpieces include candles which can of course be found in any number of colours including red. Bottles, bowls and vases also come in wide ranging colours so red or a contrast should not be hard to find. These can then be filled with any number of different items to make your red wedding centerpiece.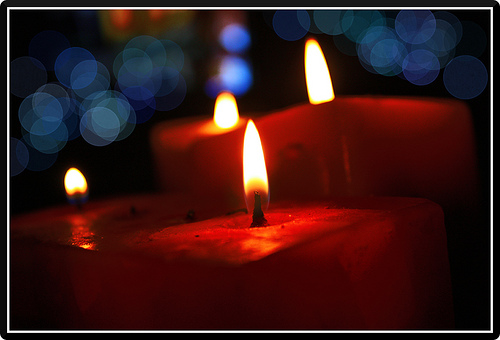 Photo by lel4nd.
If you want something naturally red to use in your centerpiece, fruit is a good option. Arrangements of red apples interspersed with greenery or cranberry filled bowls with single flowers would make for eye catching pieces. Strawberries could be piled high in pyramids or half covered in chocolate and arranged on tiered cake trays.
More food ideas for red wedding reception centerpieces include a tall display of cup cakes themed with red icing or a collection of red sweets in glass bowls. Red peppers could even be used if you are creative enough.

Photo by clevercupcakes.
Why not include red disposable cameras on the table? Just remember to retrieve them all at the end of the night. You will have hours of fun sorting through the hilarious snaps taken by your guests. Red ribbons and material can be used to make your centerpiece even more attractive or you could scatter red glass stones or rose petals around the display.
Having a red themed wedding should not be a problem with regards to finding red wedding table centerpieces as there are plenty of beautiful choices available to you. Your guests will be blown away by the elegance and sophistication this color gives to your big day.
Useful Resources
Dozen Red Roses
Save money on 12 red roses with voucher codes