Wedding Flower Arrangements Centerpieces: Common Mistakes To Avoid
Wedding flower arrangements centerpieces set the mood for your reception. Whether you like a lot of color, or want to stick with more traditional whites, golds and silvers, you're sure to have something already in mind. But if not, please see below for a few flower arrangement pictures to inspire your wedding centerpiece ideas.
Before you spend money on your reception table centerpieces, be sure you are getting your money's worth. Here are five common wedding flower mistakes to avoid:
Mistake 1: Lack Of Planning
Many of the loveliest flowers come from exotic locations, and they can be expensive for floral designers to keep in stock. Find a florist well in advance of your wedding reception, and plan your wedding centerpieces. A week or two is not enough! Many floral designers need six to eight weeks to get exotic flowers, so if you want something unusual be sure you give the florist enough time. Don't settle for wedding centerpieces that are less lovely than those you really want!
Mistake 2: What's That Smell?
Although you may love the way certain flowers smell, keep in mind that many people suffer from allergies that can be brought on by smelling the same flowers you enjoy. Some of the worst offenders are in the daisy family. While wedding flower centerpieces may look perfect, your guests' comfort and well-being should be of greater importance. Consider using a blend of realistic silk flowers and real flowers if you absolutely must have a certain species!
Mistake 3: Overspending
One of the biggest mistakes some people make is forgetting to incorporate flowers from the ceremony into the wedding reception decor. As you order your wedding centerpieces, consider how flowers from the bride's wedding bouquet or from one venue can be used at the next. Depending on the size of your wedding and reception, you could knock hundreds or even thousands of dollars off your budget by simply moving floral arrangements from one place to another. Many floral designers are happy to provide this service for you if asked.
Here you can see the bridal bouquet being re-used in a vase for a wedding table centerpiece: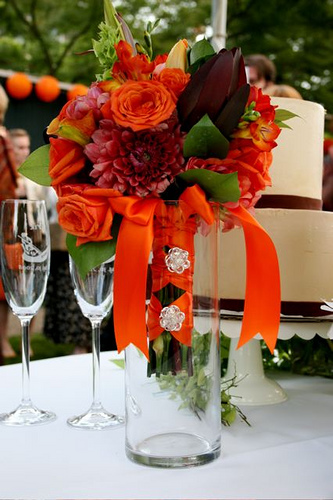 Photo by jagwired.
Mistake 4: Wrong Size
Be sure the wedding centerpieces you use are to scale. Choose smaller centerpieces for smaller venues, shorter centerpieces for rooms with low ceilings, and larger, loftier centerpieces for very large reception halls or outdoor venues.
Mistake 5: Why Didn't I Listen?
Let your florist do his or her job. Plan ahead, and communicate your desires to the designer. Look at examples of work done in the past, and listen carefully to what he or she has to say about the centerpieces you envision. This is one of the best ways to avoid a disaster.
You want the ultimate flower centerpieces for weddings to complement the reception, not overpower the occasion! By following these simple tips, you're sure to have lovely decorations and enjoy your wedding day.
Wedding Flower Centerpieces Pictures
Photo by sailor_coruscant.
Photo by nanaz.
Photo by walkering.
Photo by 28157360@N08.